Coworking Spaces For Women Redefine The Workplace
At 1 Main Street in Brooklyn lies a working woman's pastel paradise. Elegance exudes from every corner of the 9,000-square-foot loft, complete with a vintage photo booth, wellness room, beauty room and podcast recording studio.
Vibrant floral bouquets adorn the charming nooks where women laugh and work in blissful harmony, sipping cocktails and munching on sandwiches.
The art gallery and lending library feature prominent female artists and authors, but behind the bookshelves sit clandestine phone booths for private phone calls named after fictional, female characters.
What may sound like an imaginary, girls-only Valhalla is actually the third, and newest, location of The Wing, a modern-day women's club fearlessly dedicated to creating coworking spaces for women.
In 2016, the first community space opened in the Flatiron district. An immediate and burgeoning waiting list spurred the SoHo and DUMBO locations, with a Washington, D.C. space slated to arrive in the spring.
Co-founders Audrey Gelman and Lauren Kassan drew inspiration from the women's club movements of the late 19th and early 20th centuries, according to The Wing's website.
In fact, The Wing's distinctive aesthetic feels remarkably vintage-chic; as Hilary Koyfman, one of the interior designers, described to Domino Magazine, "It's kind of like Mad Men – without the men."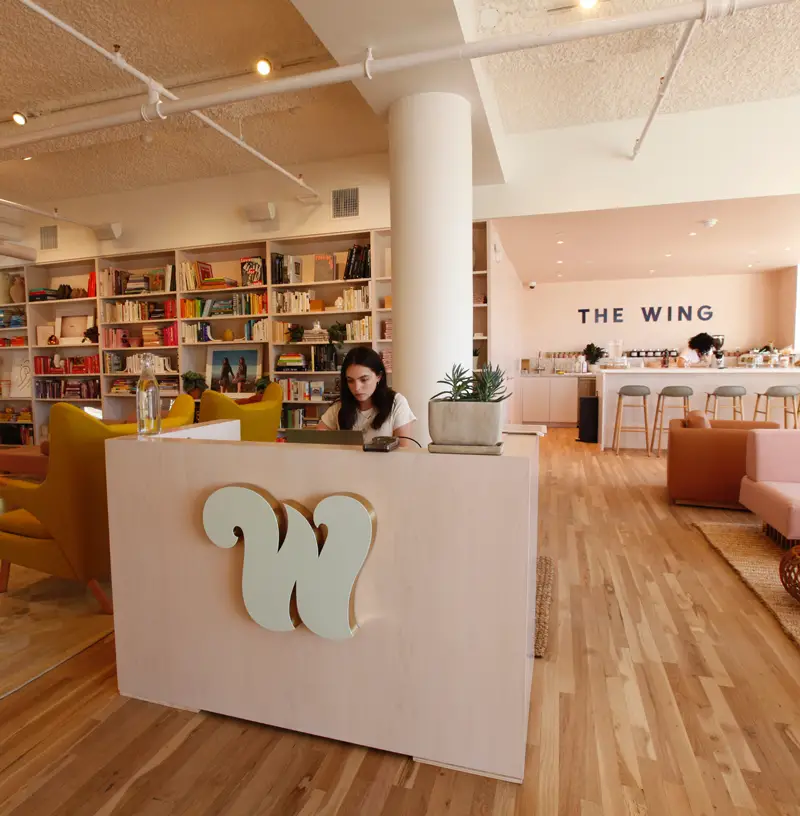 And yet, the emergence of coworking spaces for women like The Wing speaks to a modern concern.
Sexual harassment in the workplace remains a frighteningly crucial issue; an ABC News-Washington Post poll published in October 2017 reported that 3 in 10 women experience "unwanted advances from male co-workers and a quarter have endured them from men who had influence over their work situation."
The female-centric coworking spaces sprouting across the nation (and internationally, as well) defy the traditional work environment and provide safe havens and helpful accommodations for working women.
Representing a furiously expanding breed of what the New York Times called "Instagrammable feminism," The Wing and its sister coworking spaces continue to pioneer a 100-year-old movement, with a uniquely contemporary flare.
To those accustomed to the typical office environment, coworking spaces may appear to be a foreign concept. A study published in the Harvard Business Review (HBR) found that employees who belong to coworking spaces tend to report "higher levels of thriving" than those who work in a traditional office space.
The diverse backgrounds, skills and fields represented help to eliminate the overwhelming pressure to conform to a generic "work persona," and incite compelling conversation. Furthermore, these communal spaces often provide opportunities to form meaningful connections and participate in engaging events.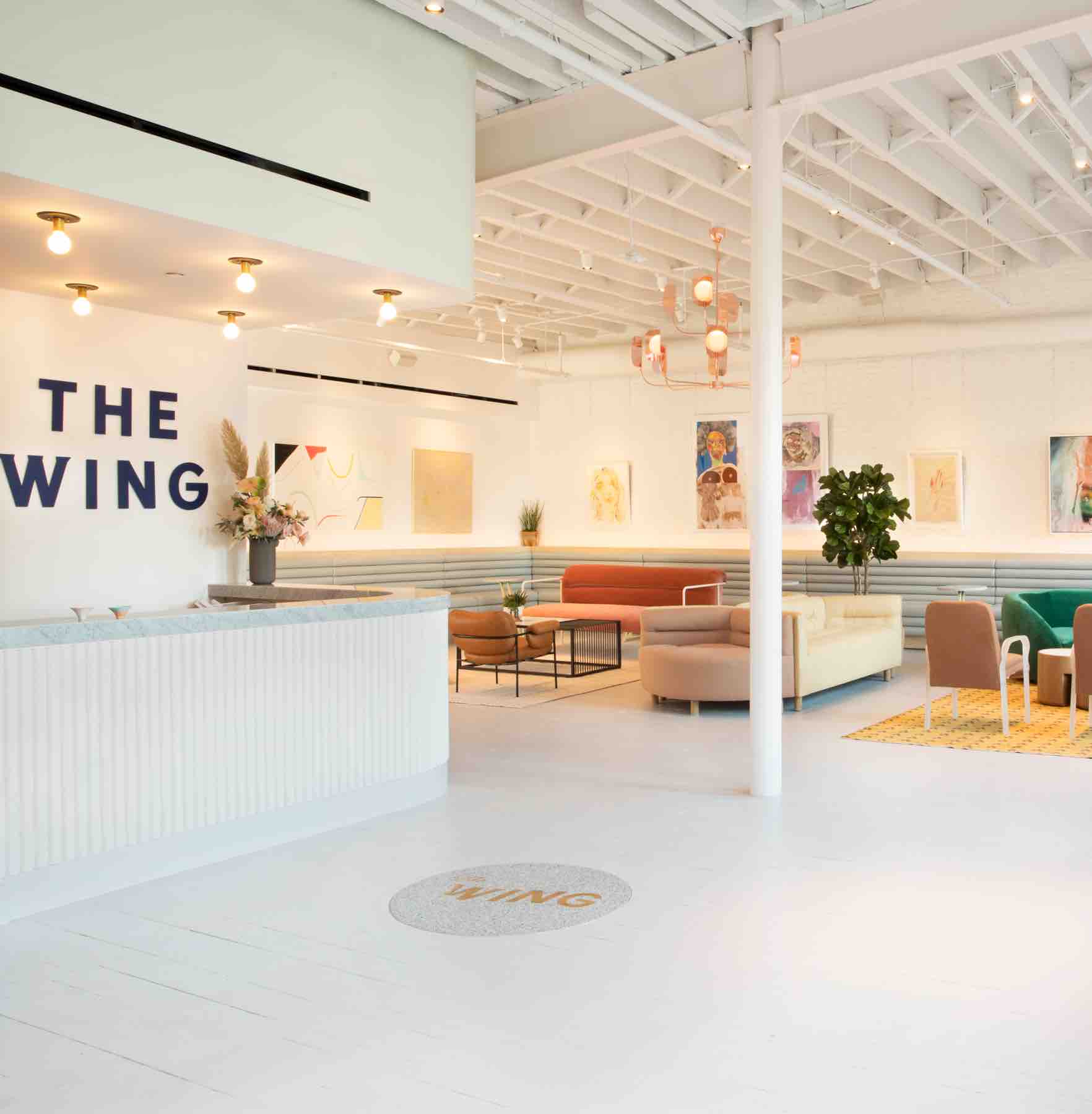 Though their individual strategies and unique energies may differ, coworking spaces commonly uphold certain values, including collaboration, community, participation and learning, according to the Coworking Manifesto, which has accumulated over 2,000 signatures from coworking spaces.
Add in the all-female quotient, and the impact of coworking spaces for specifically women becomes all the more influential.
Like The Wing, RISE Collaborative Workshop in St. Louis exemplifies the spirit of the movement, boasting a "curated community of ambitious women and a chic workspace with the flexibility of a coffee shop but the polish of a corner office," according to its website.
RISE emphasizes a strong community bond with its RISE Up Book Club, Speaker Series and Mentor/Mentee Social Events. Members can participate in a hands-on Social Media Bootcamp and the Women on the RISE conference.
The workspace features lactation rooms, private offices and a coffee, tea and snack bar, just to name a few amenities. RISE even offers membership specifically for high school girls so they can be "surrounded by successful, inspiring businesswomen + other teen girls investing in themselves."
Other popular coworking spaces include Hera Hub, known for its "spa-like environment" and its reputation as a "space for creativity." It was founded in San Diego, California, in 2011 and has grown to become the "first international female-focused coworking space," with locations across the U.S. and a space in Stockholm, Sweden.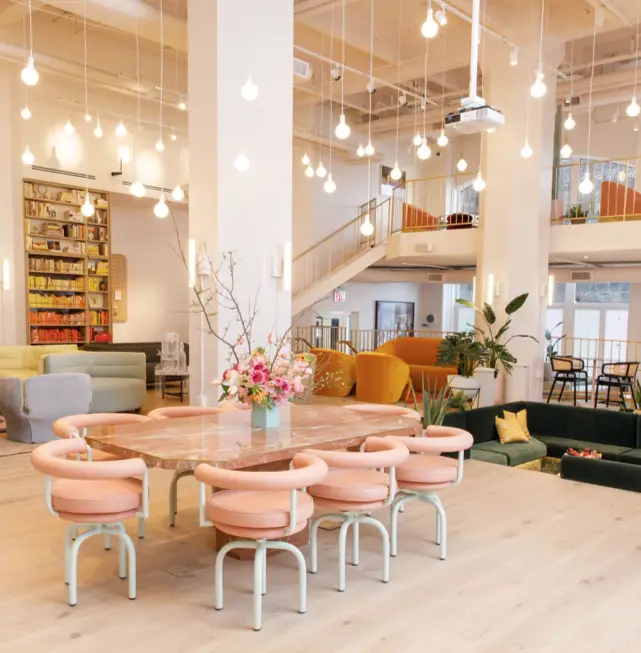 The movement has undoubtedly expanded internationally. We Heart Mondays and The AllBright are just two examples of Britain's take on the trend.
The AllBright was the first of its kind in the United Kingdom and quotes the words of legendary author Virginia Woolf on its site: "A woman must have money and a room of her own if she is to write fiction." The AllBright co-founder Anna Jones heartily extolled the values of an all-female workspace to Wired.
"Quite often when you have a mixed environment, men tend to dominate discussions and women tend to hold back," Jones said. "In a female environment, women are more likely to speak up, share experiences, talk about their successes, and be a bit more open and honest about some of the challenges that they face – because frankly, it's quite hard to be the only woman in the room."
Even though coworking spaces for women are available, they are not yet an attainable option for all women. The hefty price tags limit the "economic diversity of membership," according to the New York Times.
Julia Carpenter of CNN Money wrote that memberships to these luxurious spaces "can cost anywhere from $100 to $700 a month (some offer pay-by-the-hour passes). And any cost at all could be prohibitive for many young women early in their careers — the same ones who stand to benefit most from the professional development programming and networking opportunities."
The Wing is no exception. The New York Times reported that "along with the membership fees, there are charges of $30 per hour for semiprivate workrooms and for the snack bar's food, coffee and wine (no outside food is allowed inside)." However, Gelman and Kassan hope to alleviate this problem with a scholarship program in development.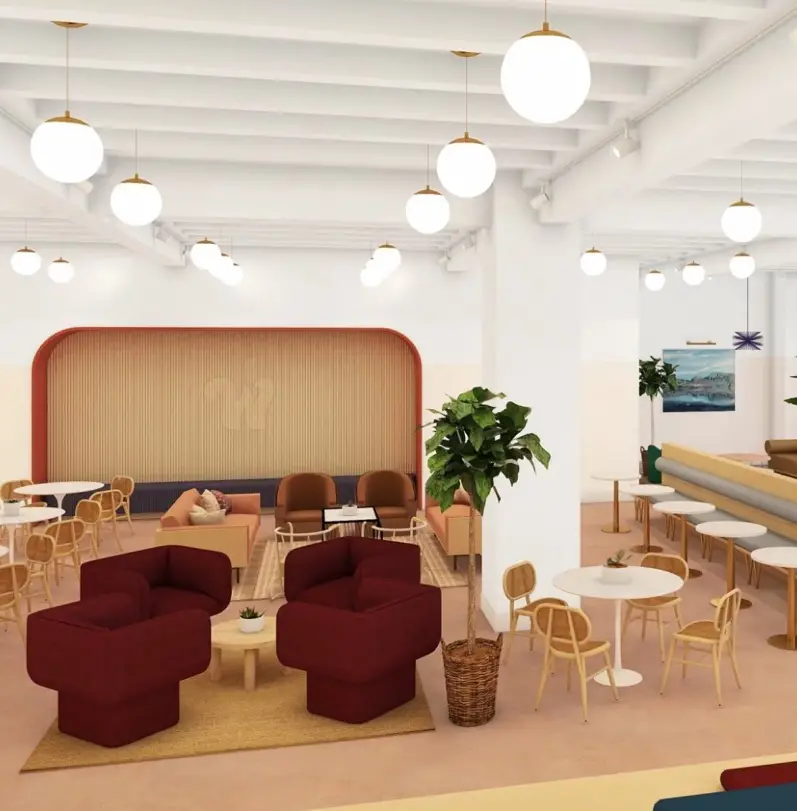 Despite inherent flaws and incidental exclusivity, The Wing's popularity continues to skyrocket and draw the attention of household names.
"Brands are now paying the club for marketing access to members. Earlier this fall, each member received a big bottle of Chanel perfume in the mail. Hulu sponsored a 'Handmaid's Tale' event at the Flatiron club, for which Margaret Atwood, the book's author, made a special video," according to The New York Times.
Even more, celebrities like Jennifer Lawrence and Venus Williams have graced The Wing. Hillary Clinton will visit The Wing on March 21, and non-members can even enjoy the livestream from Facebook or Instagram.
Coworking spaces for women provide a heartwarming glimpse of what seems like an alternate universe: a woman's take on the workplace.
What would that look like? What values would these kinds of workplaces uphold? If the spaces mentioned are any indication, the potential benefits and outcomes from these workplaces would be astounding.
The grand dream, therefore, is not for coworking spaces for women to remain isolated covens, but rather for their attributes and principles to infiltrate the traditional work landscape to create more inclusive environments that cater to the needs of both men and women.
For now, The Wing and its peers will continue to redefine coworking spaces and provide picturesque havens for women to call home.
Originally published on the Study Breaks Magazine website: 
https://studybreaks.com/news-politics/coworking-spaces-for-women/